Get Involved
Psalm 149:3…
Let them praise his name with dancing,
making melody to him with tambourine and lyre.
Do you enjoy making music and does music contribute to your worship experience?
At St. Stephen, music is a big part of our worship services and congregational life.  Piano and organ, choirs for old and young, bellringers, a band with vocals, guitar, bass, and drums and vocal and instrumental soloists all contribute to and enrich our church life.
Would you like to contribute but do not know how or where you fit in?
Contact our church musician, the pastor, or church office by email or call (519) 744-2521 and we can help you find a place.
All are welcome!
Support our church family at St. Stephen by volunteering your time and talent.
 Become a Sunday Volunteer
Assistant Minister
Communion Assistant
Reader
Greeter
Usher
Counter
Choir Member
Sunday School Teacher / Helper
Nursery Helper
Coffee Host
Altar Care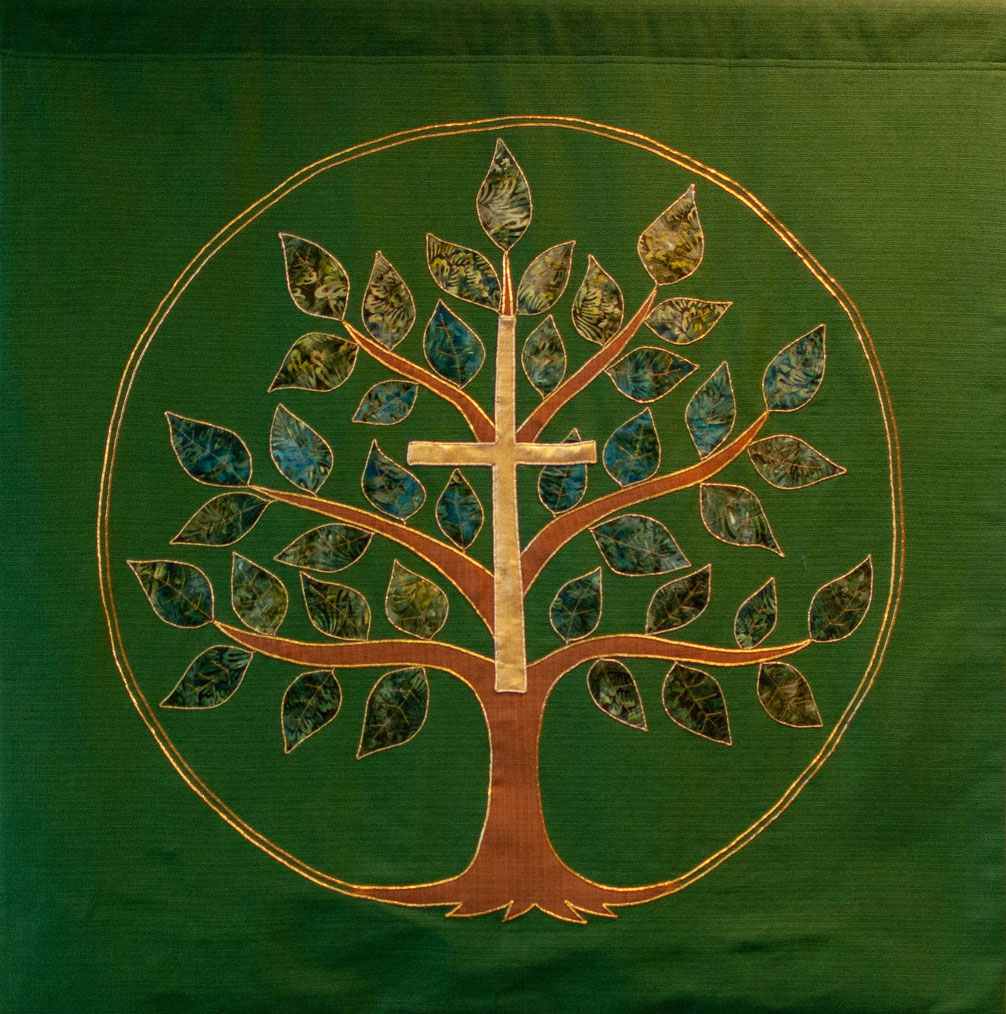 After Worship @ St. Stephens
The more we understand others, the more we see them as family. With this in mind, we created a series of sessions where we invited people of different faiths to tell us some of their perspective and answer questions in a safe space. Each Sunday over six weeks we met for lunch to engage with a presenter from a different faith group.
When it becomes practical, either in person or on-line, we plan to have another series where we develop our understanding of people who feel they are at the margins of society. A wise woman once said, "Whenever I see people gathered in a circle, I look to see who is outside of the circle."
St. Stephen supports a variety of programs which serve the needs of people in our local community and beyond.
On a regular basis, food is donated to the Region of Waterloo Food Bank. Also, several times a year, members from St. Stephen volunteer to sort food items at the Food Bank warehouse in Kitchener.
Throughout the year, St. Stephen supports specific agencies such as the House of Friendship, Canadian Lutheran World Relief (CLWR), Mill-Courtland Community Centre, and Marillac Place, to name just a few.
Food bags are given out monthly at the church to those in need in our surrounding community. Contact the church office for further details.
St. Stephen knitters donate hats, mitts and scarfs to our mitten tree.
This project helps many people in the community with warm scarves, hats, mitts, socks and other necessary items to keep warm in the cold winter months.
NeedleCraft Online meet once a week,Thursday evenings at 7:30 p.m. on Zoom for conversation while working on preemie hats, booties and sweaters for Grand River Hospital.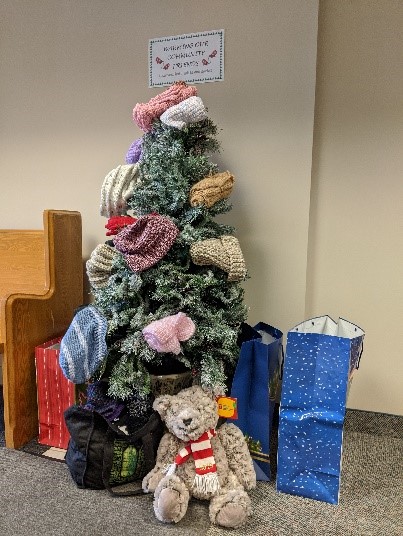 Youth and Children's Programming
Our youth program at St. Stephen focuses on three things:
The first is building relationships.  By planning and participating in activities together our focus is to build healthy relationships between the youth and their friends and also with the adults of the congregation who help and support the youth program. Through healthy relationships, we learn what it means to respect, love and encourage each other.
The second is service, where our youth have an opportunity to put their faith into action.  Through various opportunities, we learn together what it means to love and serve our neighbour.  We participate in events such as World Vision's "30-Hour Famine" or Canadian Lutheran World Relief's "Hunger Inter(mission)."  We join events like local mission trips to learn about homelessness and feed the hungry.  We participate in CLAY (Canadian Lutheran Anglican Youth) gatherings where we learn about our neighbours in this country and in the world. We serve our communities and congregation by hosting fundraising activities, such as yard sales or Easter breakfasts. Through the confirmation program (youth ages 12 – 14), we assist in worship, and this past year, with congregational support and with CLWR (Canadian Lutheran World Relief), we sewed dresses for girls in developing countries. Older youth have the opportunity to help out with our yearly Vacation Bible School program.
Our third focus is to have spirited fun!  We enjoy events such as sleepovers with friends here at the church.  We go bowling, play dodge ball and the ever-popular manhunt, go swimming, visit places like the Toronto Zoo, go on museum outings. We also go tubing at Chicopee in the winter, skating and drink hot chocolate, see movies, and so much more!
Our program is open to junior youth ages 9-11, and senior youth ages 12-16.  All youth are welcome, and their friends too!
Affirmation or Confirmation
Confirmation is a public affirmation of faith and an acknowledgement of your baptism. 
St. Stephen offers a 2-year course which includes discussion and learning from the Bible, the teachings of Martin Luther and the Confessions. It will also include frank and open discussions about what our tradition says about current issues. 
At the conclusion of the course, you will participate in an Affirmation of Baptism or Confirmation service often held on Pentecost Sunday, the 50th day after Easter, which marks the descent of the Holy Spirit upon the Apostles and other followers of Jesus Christ.
Not baptized yet? You do not have to be baptized to attend the course.  The Pastor will help to guide you through your faith journey.
For more information contact the church office, Pastor Richard by email or call (519) 744-2521.
Food Fun & Faith – Alternative Worship
Hospitality and social opportunities
The Online Prayer Group meets on Monday evenings as during COVID-19 we gather to pray for our church and each other and concerns we have. Contact the church office for the meeting link and join us at 6:45 p.m.
The Book and Prayer Group meets Monday morning from 10 a.m. until noon. We have lively discussion about the book we are currently reading and about any topic that comes up! Books are provided from the Kitchener Public Library's "Book Club in a Bag" program. We end each session with prayer requests.  All are welcome!
The Quilters meet on Tuesday mornings from 9:30 a.m. to noon, from January to June and September to December. During the year, this group sends sundresses, tied quilts, and knitted teddy bears to Canadian Lutheran World Relief. Our primary focus is on making tied quilts, but we also have a small group making smaller quilts to be sold at the annual Cookie and Craft Sale.
The Card Group meets each Tuesday at 12:45 p.m. from September to mid-June.
Join us for an exciting afternoon of Euchre or Solo. There is a voluntary fee of $1 per person and light refreshments are served. If you have any questions, please speak to Larrie Brown or Larry Kennedy or call the church office for more information.
The Evangelical Lutheran Women (E.L.W.) meet many times throughout the year.  Together with the congregation, they support community and world relief projects – as well as each other.  These women often enjoy meals together and host events for the women of the congregation including the popular 'Friendship Brunch.
Outreach projects have included
putting together layettes for CLWR
tying quilts for the quilters to send to CLWR
collecting $50 in gift cards and a large box of toiletries, hats, gloves, and socks which have been given to support One Roof Youth Services at Christmas
collecting $190 in Tim Horton's gift cards for the Grand River Hospital Cancer Unit
putting together and delivering plates of cookies and poinsettias to seniors and shut-ins at Christmas.
If you are interested in joining our group, please contact our group leader, the church office, or the Pastor.